Permanent Protection for Our Sonoma and Mendocino Coastlines is Within Reach:
You suddenly have this once-in-a-lifetime opportunity to secure permanent protection for one of the most iconic and sensitive portions of the California coast. The spectacular beauty of our coastline between Bodega Bay and Pt. Arena attracts millions of visitors and is the centerpiece of our regional economy, but it's what you can't see with the naked eye that makes this place so special.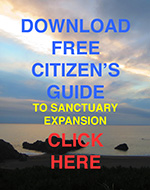 Download your free iPad and Kindle versions below
In this region, one of the four most productive ocean upwelling systems on the planet brings nutrient-rich waters from the depths. Seasonal surface currents and prevailing winds carry this rich foodsource southward to provide the base of the marine food chain for an abundance of aquatic and avian life extending at least as far south as the Monterey Canyon. This region embraces a globally significant, extraordinarily diverse, and productive marine ecosystem that supports thriving wildlife and valuable fisheries. It provides breeding and feeding grounds for at least twenty-five endangered or threatened species; thirty-six marine mammal species, including blue, gray, and humpback whales, harbor seals, elephant seals, Pacific white-sided dolphins, and one of the southernmost U.S. populations of threatened Steller sea lions, plus over a quarter-million breeding seabirds, and one of the most significant white shark populations on the planet.
A Draft Environmental Impact Statement (DEIS) laying out the new expansion of these existing National Marine Sanctuaries by extending their collective northern boundary northward from Bodega Bay to Pt. Arena has just been released for public review. This long-sought protection has been previously passed by the U.S. House of Representatives and remained in play during the 2012 session of the U.S. Senate. Pursued for many years in a bipartisan effort by affected local elected officials and our Representatives and Senators in Congress, this is an outcome that will permanently prohibit offshore oil and gas drilling and establish rules for sewage dumping from cruise ships on the entire Sonoma Coast and on the Southern Mendocino Coast.
Now is your chance to protect our regional economy, our sustainable fisheries, and this valued national treasure by attending one of the four upcoming local public hearings in our area. Your support and any specific comments you might have on ways to improve the details of this plan are critical, and your own participation in extending this vital protection to key new coastal waters is vital at this time.